Advertise with us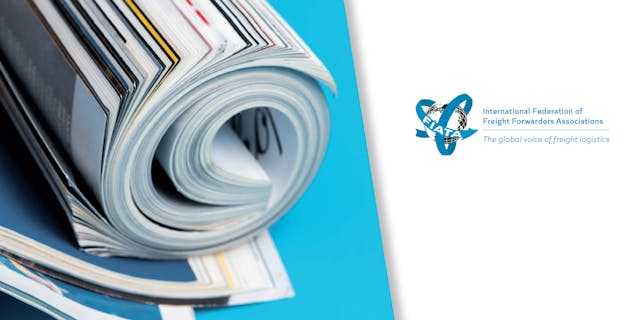 WHY SHOULD YOU ADVERTISE WITH FIATA?
You have various advertising opportunities with FIATA, with a variety of communications materials to choose from. The FIATA Review informs on the latest global and regional trends, figures, analysis and developments in the supply chain; as well as the latest news from the FIATA Headquarters. The magazine is published in online and print format quarterly. Advertising in the FIATA Review will help you gain Visibility, Recognition and Impact.
The FIATA Review Digest is a bitesize version of the FIATA Review published in Spanish, Traditional Chinese and Simplified Chinese, to reach a broader audience, and get your product into focused regional markets.
The FIATA Quarterly Legal Newsletter is another opportunity for you to share product information through your advertisements to a niche legal audience.
For prices on advertising in the FIATA Review Digest, or the FIATA Quarterly Newsletter, please contact us at events@fiata.org. Please find the FIATA Media Kit on the next tab of this menu for FIATA Review advertising prices.
VISIBILITY
Gain traction with the main actors of the supply chain and familiarise them with your products (Optional content can be sent to FIATA HQ with your advertisements to be integrated into 'product tags' which digital readers can click on to get snapshots of your products)
RECOGNITION
Increase your brand awareness to your target audience and stand out from the competition
IMPACT
Influence the supply chain decision makers by being involved with the global logistics community
WHO READS THE FIATA REVIEW?
Readers are supply chain decision makers from a multitude of environments: freight forwarding, cargo and courier transport, logistics centres and warehousing, customs brokerage, transport equipment and sub-suppliers, port and airport authorities, producer, importer and exporter firms, ministries, international organisations, etc.